Beyond Bid Calling Workshop 2013
Beyond Bid Calling Workshop 2013
Advanced Fund A Need & Stage Performance
EXPLODE YOUR BENEFIT AUCTION BUSINESS NOW!

Are You Ready to Tap Into the Booming
$16 Billion Benefit Auction Business?

From: Kathy Kingston, CAI, BAS
Professional Auctioneer & Consultant
Discover How To Break Through To The Next Level
Dear Fellow Auctioneers,
Are you frustrated convincing the Auction Committee that you will raise exponentially
more funds that the weatherman or a volunteer?
Do you ever find that you:
Want to raise your fees and don't know how?

Worry how to find and book high-profit benefit auction clients?
Want to perform Fund A Need with confidence and records?
Hope the speakers don't bore guests before you are introduced?
Don't know how to charge what you are worth and receive it?
Are perplexed about fundraising and how to work with nonprofits?
Feel disheartened that you are leaving so much money in the room because the gala chairs focused on the party and not raising funds?
Frustrated convincing the Auction Committee that YOU will raise exponentially more funds that the weatherman or a volunteer?
Wonder how to break through to high paying benefits?
Have predicaments engaging auction guests…because there is too much talking and not enough bidding?
Lack confidence to ask for money?
Struggle to persuade nonprofits to strategically design Fund an Item and not just wing the whole night?
Have had enough of working too hard and too many hours for too little money?
Take

Your Benefit Auction Business to the Next Level?

Then, please join me…

Beyond Bid Calling Workshop


December 9 & 10, 2013
Monday and Tuesday
Location: Warwick Melrose Hotel, Dallas, Texas
SUPER Early Bird Registration Until October 4th

"Last year alone our auction team raised an additional $5 million for
our nonprofit clients because of the advanced skills I learned in your
Beyond Bid Calling Workshop. I will continue to be the first in line for any of
your seminars, and will forever be in debt for all that you have taught and
given to me, my family and our business."
Jeff Maynard, President & CEO
Maynard & Associate Elite Benefit Auctioneers & AuctionHaus
Do you know the #1 reason nonprofits will retain you?
It's your captivating ability to be an "Ambassador for their Cause" to
meaningfully engage and inspire donor generosity.
Now, nonprofits count on you more than ever.
That's why I've created this innovative advanced training expressly for
YOU — benefit auctioneers.
So, if you are a seasoned auctioneer who is ready to catapult your benefit
auction performance and business skills, I am excited to work with you
personally to provide an innovative and highly interactive, fun and profitable
workshop experience.
"Kathy Kingston is a friend of mine and an EXCELLENT teacher. I know this is last minute, but check out her info below if you are serious about making a real living at this profession. There are only a handful of good Benefit Auctioneer training seminars in the country, and this is one of them. You WILL make it back."
Jim Nye, The Benefit Auction Guy, California

Beyond Bid Calling Workshop promises to bring creativity, energy and stronger results to you and your nonprofit clients. Case studies and roleplaying simulations will emphasize ambassadorship, advanced fundraising, showmanship, and consulting with an emphasis on dynamic communication with non profits and donors.
Interactive Personalized Coaching and Case Study Focus:
Advanced Fund A Need Intensive Training
Stage & Performance Skills Vital for Benefit Auctioneers
Audience Engagement and Auction Theater Methods
New Trends in Philanthropy and and Working with Nonprofits & Schools
One-on-One Coaching to build your confidence
Fresh Ideas for new revenue activities to justify your increased fees
Learn to ask for money and to feel great about it!
Private TeleSeminar Included
"Hot Trends in Fundraising and Nonprofits"
Discover how to leverage what's new in fundraising. You'll learn first hand what matters most to your benefit auction clients today. Catapult your business and raise more money!
Led by: Philanthropy Expert Sharon Danosky, Danosky & Associates.
Experiential and Action Packed Learning
The value of our small group setting offers you a creative and action-oriented context to hone leading edge practices and innovative fundraising auction techniques while spotlighting your personal style.
Stand out from your competition with riveting fundraising presentation skills and refined coaching techniques for your non profit clients.
"I wanted to give you a huge thank you for the wealth of knowledge you armed me with- we have conducted four auctions this year (all brand new clients) and have already raised close to $300,000 in live auction and fund-a-mission sections of the auctions – and it's only January." PS – all four groups have booked us for 2012!"
Darron Meares, MBA, CAI, MPPA, BAS
COO, Meares Auction Group
Founder, Bowtie Benefit Auctions
South Carolina
"To thrive in challenging times you must become more creative, learn innovative skills, network more to compete in this new economy." ~ Kathy Kingston
Even experienced auctioneers and development professionals do not always know exactly how to deliver compelling mission-based remarks at benefit auctions. Build your confidence and harness these advanced benefit auction competencies. Kathy's personalized coaching will empower you to inspire nonprofit clients, donors and auction audiences to accelerate your career and to skyrocket auction fundraising.
What Will You Walk Away With?
Confidence to make a superb fundraising ask on and off the stage
Communicate effectively with nonprofit staff, volunteers and donors
How to orchestrate the best "Show Flow" to intensify fundraising
Ways for you and your clients to deliver inspiring true stories
Spice it up with Auction-tainment" music and theatre techniques
Perfect the 7 Competencies Nonprofits want in their Auctioneer
Know the biggest mistake auctioneers make quieting the audience
Polished "Event Emcee" skills
How to stand apart as a "Auction Ambassador"
Practice how to coach event speakers to "nail" compelling remarks
Belief in your own ability to book and retain more Benefit Auctions
And much more..
What's Different about This Workshop?
Individualized Performance Coaching with Kathy
Intentional Small Group Learning
Interactive Case Studies with Hands-On Learning
Positive feedback methods
Continental breakfasts, lunches and reception included
You integrate new performance skills quickly with dynamic practice sessions and personal coaching from Kathy
High-impact, fun and results driven!
"The workshop was truly a pivotal change for me. I left the hotel that day feeling very empowered and confident. Anyway, I wanted to touch base with you and just let you know how much I appreciated the workshop and getting to know you. You are an amazing teacher. I was overwhelmed by the encouragement that every participant gave to one another."
Mary Cooper, President
Fundraising Consulting Division
Benefit Bidding LLC
Texas
BEYOND BID CALLING WORKSHOP CURRICULUM
Since so many auctioneers have asked me for in-depth deeper fundraising and advanced benefit auction coaching…I've loaded this training to turbo-charge your benefit auction business now.
Monday, December 9

Breakfast 7:30AM – 8:30AM (Included)
8:30AM – 10:00AM
INTENSIFY YOUR IMPACT ON GIVING
Break: 10AM – 10:15AM
10:15AM – 11:30AM
MASTER THE ESSENCE OF THE ASK
11:30AM – 12 Noon
NEW AUDIENCE ENGAGEMENT METHODS
LUNCH 12 Noon – 1PM (Included)
1:00PM to 2PM
LIVE AUCTION PERFORMANCE WITH MISSION INTEGRATION
2:15PM -4:15PM
AUCTION-TAINMENT: MUSIC AND THEATRE TECHNIQUES
Break: 4:15PM to 5:30PM
5:30PM- 6:30PM
ART OF THE SCHMOOZE: MEANINGFUL MINGLING (included)
"Kathy Kingston embodies all of the qualities of the champion auctioneer. Her unexcelled ability on a professional level and welcoming personality are the qualities that all auctioneers strive to have."
Paul C. Behr
President, National Auctioneers Association and
past International Auctioneer Champion
Tuesday, December 10
Breakfast 7:30AM – 8:30AM (Included)
8:30AM – 10:00AM

FUND A NEED & TRANSFORMATIONAL STORY TELLING (Part 1)
Break: 10:00AM – 10:15AM
10:15AM – 12 Noon
FUND A NEED & TRANSFORMATIONAL STORY TELLING (Part 2)
LUNCH 12 Noon – 1PM (Included)
1PM to 2:15PM
HIGH IMPACT MARKETING FOR YOUR AUCTION BUSINESS
Break 2:15PM – 2:30PM
2:30 -3:45PM
KEEP THE MONEY FLOWING! FRESH REVENUE PRODUCERS
3:45 – 5:00PM
WRAP UP
5PM ADJOURN
"Since Kathy's amazing workshop, auction attendees consistently think that I am part of their organization because of how well I am connected to their cause. That is a HUGE compliment to receive. I thank Kathy for her Beyond Bid Calling Workshop and for instructing me on so many other profitable strategies to raise more money for my clients. So glad I took the time to work this into my schedule."
Lynne Zink, CAI, BAS
President, Lynne Zink Auctions
Maryland

If you'd like to skyrocket fundraising and book more benefit auctions, this could be the most important training you've ever attended.
Learning to champion the nonprofit cause and to inspire audiences is the #1 expertise that nonprofits seek in benefit auctioneers.
Please join me for this unique profitable professional development opportunity!
"If you think just auctioning fancy dinners and exotic trips will build your benefit auction career… think again!"
Kathy Kingston, CAI, BAS
"Thank you so much for that phenomenal class.  So much to put into
effect here.  YOU are incredible!"
Kelly Russell, CAI, BAS, CES
Kelly Russell Auctions, Portland, Oregon
GO Beyond Bid Calling NOW!
Advanced Fundraising Auctioneer Workshop
Monday & Tuesday: December 9 & 10
Location: Warwick Melrose Hotel, Dallas, Texas
Presenter: Kathy Kingston, CAI, BAS
Investment:
*Intentionally small, interactive class. Limited spaces. Register now!
SUPER EARLY BIRD

$797

Until October 4th

EARLY BIRD

$997

Until December 2nd

REGULAR PRICE




$1497

After December 2nd



"This is my first full blown benefit season and my new toolbox is helping many causes!"
Wendy Lambert
Lambert Auction Company, Texas

Beyond Bid Calling Workshop Includes:
✓ 2 Full Days of Interactive Real Case Study Experiences
✓ Advanced Fundraising and Benefit Auction Skills
✓ Positive Feedback Methods
✓ Unique Learning You Won't Find Anywhere Else
✓ Individual Coaching of Each Participant by Kathy
✓ Continental Breakfast and Lunch each day
PLUS THESE BONUSES:
✓ Custom Tele-Class with Philanthropy Expert – Sharon Danosky
✓ Special Workshop Live Auction-tainment Music Session
✓ Private Individual Pre-Workshop Teleconference with Kathy Kingston
✓ Free E-books: Record Breaking Fundraising Auctions Tips
✓ Free Special Report: Triumph Over Your Toughest Charity Auction Challenges
✓ Complimentary Reception/Lesson: "The Art of the Schmooze!"
"I attended Kathy Kingston's course, "Beyond Bid Calling" in Texas. The hands on training and role playing gave me the knowledge and confidence that I needed to be able to raise more money for my non profit clients. My first client after class reaped the benefits during the Special Appeal by raising more money than expected. I was even able to pick up a new client that night as a result of my "performance". Thank you Kathy for sharing your knowledge with us!"
Christie King, CAI, AARE, BAS
C King Benefit Auctions, President and Founder, Alabama

UNLIMITED OPPORTUNITY!
This workshop is all about the most cutting-edge, proven practices for your dramatic growth. Join me as I demystify new benefit auction income secrets that make even last year's approaches obsolete.
If you've ever heard me speak, you already know I always OVER-DELIVER. If you're serious about raising more money at your next fundraising auction and expanding your benefit auction business, you definitely want to attend this groundbreaking development opportunity!
I'm excited to personally invite you to join me.
To your unprecedented benefit auction success!
Kathy Kingston, CAI, BAS
Fundraising Auction Consultant
Professional Benefit Auctioneer
Coach for All Things Fundraising Auction
---
PS: *Please note: Due to individual coaching of each workshop participant and a highly interactive program, registration is very limited. We invite you to call now register now to insure your spot.
PPS: I hope you will consider joining me for an energizing, fun and valuable workshop that will bring stronger results to you and your non-profit clients.
PPPS: Think: warm beautiful Dallas in a historic boutique hotel surrounded by amazing shops and restaurants just a stroll outside the Warwick Melrose Hotel – a great way to wind down from your benefit auction season!
Join Us in Dallas, Texas
Warwick Melrose Hotel, Dallas, Texas

Warwick Melrose Hotel

3015 Oak Lawn Avenue
Dallas, Texas 75219, USA
Phone: +1 214-521-5151 Fax: +1 214- 521-2470
Maps & Directions
Setting the standard among luxury hotels in Dallas, the Four-Diamond AAA awarded Warwick Melrose Hotel offers an unmatched level of grandeur and comfort. Built in 1924, this historic landmark is home to 184 deluxe guest rooms, including 20 suites and a Presidential Suite. This stylish hotel is set in one of Dallas' most fashionable neighborhoods, offering a great location as well as a touch of stately grandeur.
Centrally located in the fashionable Uptown, Oak Lawn and Turtle Creek area, the Warwick Melrose offers a wonderfully convenient choice for anyone looking for luxury accommodations in Dallas.
Just five minutes from Love Field Airport and twenty-five minutes from DFW International Airport, the Warwick Melrose Hotel is within minutes from the Dallas Market Center, Downtown, the Convention Center as well as the West End and McKinney Avenue entertainment areas. From museums, shopping, dining and events, our prime location is within close proximity of all the Dallas attractions that you simply won't want to miss.
Special Hotel Rate for Kingston Workshop Participants:
$139 per night
*You must mention Kingston Workshop for this very special rate when you book your reservations.
---
Here's what Auctioneers say about Kathy's Workshops
"It's been my privilege to be here with all of you and in Kathy's presence. We have enjoyed her presentation, we have learned from her and we have been inspired by her.The most important thing that Kathy has given to us is the recognition that we are all educators and advocates for our charities, and that we can develop a whole new level of relationships with our charities. Many of you know I have been responsible for many of the advances in fundraising auctions over the years. But, I think that Kathy has taken us to a whole new level where we can be educators and advocates for our respective charities, where we can earn our charities far more money and by doing so something very very significant and that is improve the quality of our society."
Kip Toner, BAS
Kip Toner Benefit Auctions
Seattle, Washington
"To those of you who had the honor to be in Kathy Kingston's class at the Benefit Auction Summit in Colorado: At events the past two evenings, I have been putting into practice her incredible strategies with The Appeal and have had record-breaking results. Thanks Kathy!!!"
Lynne Zink, CAI, CES, BAS,
International Auctioneer Champion 2012
Lynne Zink Auctions, Maryland
I want to say thank you so much for your Benefit Auctioneer workshop. It was a great inspiration to me and is serving as a motivator for me to make it happen. I appreciate you taking an interest in my development. As I move forward in the business I'm hopeful you will continue to share your vast knowledge in the auction business with me.
Once again Thank You."
Jeff Bender
Professional Auctioneer, Florida
"The 2012 Lupus Butterfly Manhattan Gala with Whoopi Goldberg, was a great success. The Manhattan Auction House President, Colonel Powers, owes special thanks to Kathy Kingston for her extensive fund a need consulting expertise. Kathy is a sharing Benefit Auction Specialist and a savvy business leader. Foundation Auctions non profit thanks her for her council which lead to the direct increase in revenue and new, thoroughly satisfied, repeat clients. Thanks again Kathy for sharing your experience as a NAA Benefit Auction Specialist. Check out Kathy Kingston and her benefit auction seminars.
Thanks for your help, Kathy"
Michael Powers
Professional Auctioneer
Powers Auctions, New York City
"Kathy is fantastic!! I've been to many business and educational seminars over the years, and I'd have to say that yours was far and away the best of them all! …You were well organized, and came across as friendly, witty and highly professional – just the things anyone would look for in hiring a consultant or auctioneer. Once more Kathy, thanks so much and for giving me so much great information and inspiration. You are an honor to our profession."
John Carson
John Carson Benefit Auctions
"What a wealth of knowledge !!!!! AND, willing to share that knowledge !!!! Such a wonderful blessing !!!!
Kathy, I cannot say "Thank You" enough. Then, the opportunity to share in your teleconference just put icing on the cake!!
Again, "Thank You" for your time, AND your patience to share your life passion with the world, and especially me !!!"
Col. Fred W. West
West Auction Service, Columbia, Missouri
"Thank you for presenting at the Benefit Auction Summit in Denver. Attendees had an engaged experience with your seminar and your gracious touch of offering your ebook was so true to your style. As your chairperson, your friend and fellow fundraising auctioneer, thank you for strengthening the National Auctioneers Association and our profession."
Jill Marie Wiles, CAI, BAS, CTM
Beneficial Auction Services, Oregon
Chair, National Auctioneers Association Education Trustees
"I have had the honor of having Miss Kathy Kingston become a mentor to me within the Benefit Auction Industry in which she so graciously shares her knowledge, wisdom and professionalism. Miss Kathy embodies the true meaning of giving and professionalism within her career and personally. Her enthusiasm for her profession and in giving to others is so captivating that she excites me, amongst others, to continue learning through every experience in which I am honored to become part of the Benefit Auction Industry and to further develop my relationship with her.
Thank you so much for your time, assistance, kindness and wisdom that you have so graciously shared with me."
Cissy Tabor
Professional Auctioneer
Cissy's Auction & Special Events, LLC Colorado
"I LOVE hearing from you! Always great tips for my clients and to remind me why you've been the best teacher, mentor and Benefit Auctioneer! Thank you!"
Dan Walsh
Professional Auctioneer and Emcee
The OC Emcee, California
Here's what Nonprofits say about Kathy's Workshops
"I'd like to thank you for justifying our faith in referring you. I strongly suggested one of our sister organizations (Conway Humane Society) attend 'Kathy's Auction School'. They took my advice and their auction revenue more than tripled this year (March, 2009) despite the economy! They are 'Kingston Konverts' as I knew they would be. Thanks for never making me regret my referrals!"
Caroline Boyd, President & CEO
Animal Rescue League of New Hampshire
"Kathy's seminar was absolutely fabulous! This is probably THE best eight hours I have spent at any workshop. We all felt the valuable information that Kathy shared will help make our future fundraisers a success – and let's face it, we need all the help we can get in today's economy."
Diane Cummings, Executive Director
St. Luke's Eldercare Solutions of Central Connecticut
"I am working on my seventh annual auction here at the Waldo County Transportation Program. Our auctions have always been successful thanks to the excellent training my staff and I have received provided by national auction award winner, Kathy Kingston. Kathy puts on an all-day training that leaves no questions unanswered. I can tell you she is one of the best auction trainers in the country and has the credentials to back it up. The value of the information and material provided in the training will more than cover the costs of sending a couple of people to the training."
Ed Murphy
Waldo County Transportation Program
Belfast, ME
"I have been receiving tons of wonderful feedback from our board members, staff and patrons complimenting you. Everyone here is thrilled that the energy of the event felt good and that the auction was a success. I cannot thank you enough for our hours of phone conversations and consulting working to perfect this fundraiser."
Chris Silberman, Colorado Symphony Orchestra
Denver, CO
"Your presentation was my favorite, and I had some really good ones! It was lively, entertaining, and NEVER boring! Thanks again for putting so much into it. I learned a great deal!"
Pat Munoz
River Network, Washington, D.C
"It was absolutely the best seminar I have ever attended. I have been raising funds and planning special events for over 10 years. Kathy gave me some wonderful insight on how to raise more funds during an event and ways to keep your audience captivated. I will certainly use what I've learned with others in my organization. Thank you again!"
Sharon Pelkey, Director of Development
Special Olympics Connecticut
"Kathy's seminar was the best seminar I've ever been to. Very informative and fun – I learned a lot!"
Andrena Gagliardi
The Michael Bolton Charities, Inc., Connecticut
"I have never been so mesmerized by any public speaker who could hold my attention for over 7 hours — Kathy never stopped and her energy level never waived."
Liz Crowley
Ludlow Streetscapes, Vermont
""Thank You!! This was well worth the trip across the country. I can't wait to share and implement what I have learned."
Leslie Nalley, Board of Directors
Arkansas Coalition Against Domestic Violence
"Kathy's workshops have given our non-profit clients hope and profit making methods in an economy that can only be described as dismal. They're fun, interactive and filled with ideas that can easily raise thousands of new dollars, year after year."
Gail Feinstein, Vice President, Community Relations
USI New England
"Kathy Kingston's experience and knowledge are priceless!"
Kerry Dwyer
Museum of Yachting, Newport, RI
Questions? Contact Kathy!
---
About Kathy Kingston, CAI, BAS
Internationally recognized as award-winning thought leader in fundraising auctions, professional auctioneer and consultant, Kathy Kingston has raised millions of dollars for non-profit organizations across the country for over 25 years. She founded Kingston Auction Company in 1986. Specializing in benefit auctions, she consistently empowers non profit clients to exceed their fundraising goals and offers a wealth of practical strategies for revenue enhancement.
As a fundraising auction strategist and performance coach, she conducts innovative benefit auction seminars, tele-seminars and custom workshops throughout the country for both non profit organizations and auctioneers. Ms. Kingston is featured in a one-hour television documentary about Benefit Auctions on the Auction Network. She is the author of "Record-Breaking Fundraising Auctions Tips" and the upcoming audio-book Do I Hear a Million?™Benefit Auctioneering for Record Profits. She writes and consults extensively on on how to achieve breakthrough fundraising auction success in any economy.
Kathy Kingston was bestowed the Chuck Cumberlin Memorial Sportsmanship Award at the 2012 International Auctioneer Championship by her peers. She was the recipient of the prestigious "Rose Award" from the National Auctioneers Association. Ms. Kingston holds the Certified Auctioneer Institute (CAI) designation, only three percent of auctioneers nationwide have achieved this status. Kathy was a member of the Charter Class of the Benefit Auctioneer Specialist (BAS) professional designation program. She graduated from Missouri Auction School in 1986. Ms. Kingston has competed in the International Auctioneer Championship where she was a finalist in 2003. She was awarded the Helen Copeland Leadership Award from the United States Association for Blind Athletes.
Kathy holds a Master's Degree in Education from St. Louis University where she was named "Woman of the Year". Her unique professional background also includes an award-winning career in non-profit fundraising, higher education, university coaching, public service administration, and the entertainment industry.
Kingston Auction Company is the premier resource for record-breaking fundraising auctioneers, education & strategies. Whether providing training and coaching to auctioneers, consulting to not-for-profit executives or their boards, or deploying one of their award-winning team of professional auctioneers, Kingston offers one-stop shopping for auctioneers who want record-breaking auction results.
Questions? Contact Kathy!
---
About Sharon Danosky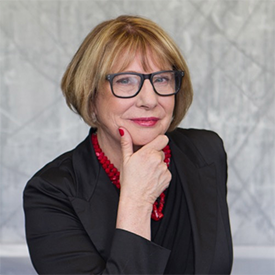 Sharon Danosky is The Philanthropy Therapist. For more than 30 years, Sharon J. Danosky, founder and president of Danosky & Associates, has dedicated her career to working with not-for-profit organizations. As both a consultant and a senior executive for numerous charitable organizations, she has transformed organizations into highly effectively charities of choice in their communities. Through a well-honed skill set that includes strategic planning, fund-raising and tactical marketing, coupled with her passion and vision, she has guided not-for-profits in their quest for achieving that "next level", thereby fulfilling their mission and their promise to the community.
Sharon has worked on both sides of the not-for-profit arena – as a senior professional working on the executive management team of several highly effective non-profits and as a skilled consultant, helping grassroots organizations, advising political candidates and leading major campaigns for established non-profit organizations. In 1999 she was part of a ten-member delegation that worked with non-governmental organizations in Russia.
Sharon has served – and continues to serve – on numerous Boards of not-for-profit organizations. She is a member of and has served on the Boards of NEAHP and AFP. She is also a sought-after presenter at regional, national and international conferences.
Read more of what seminar participants are saying about Kathy's seminars…
EXPLODE YOUR BENEFIT AUCTION BUSINESS!